"Desert Mirage," 13y/o Thoroughbred located in El Paso, Texas.

Due to nabbing an utterly amazing working student opportunity up state, I've got to sell my horse. Now, I'm not sure if this is necessarily one of the best places to post something like that (in which case, please do point me in the right direction!), but I figured it was worth a shot. In any case, we're selling Mirage because my family simply cannot afford to keep a horse while I'm away for the next year (following that, I'll be going to college where I probably won't be able to afford to take him to either, so this i just the beginning in a long string of absences that bring us to this decision). As much as I hate to come to this point, I honestly think it's more fair to Mirage to sell him to someone who is going to be able to love, care and work with him than let him rot in the paddock - he loves to work and frankly I'm a little worried he might get depressed if he's not doted on regularly. At the moment, I've got a few people at the barn keeping on eye on him, hopping on and the like, but I'd really like to find him a new caring home.

Mirage is a 13 year old chesnut Thoroughbred, off the track. We believe some time during his racing career he chipped his left knee quite badly, though it has only caused problems at the beginning of this year, causing his knee to swell up to about half over the size of the right knee. That said, he's been checked by two different vets who say he is perfectly sound. The only development that came out of this is that we had to retire him from jumping as the impact from the landing could possibly blow out his knee and lame him up permanantly. Obviously, we didn't want that happening. Prior to being pulled from jumping, Mirage was an eventer who I competed in Preliminary at schooling shows, Training and recognized shows. We also ran the H/J shows and he's been in the jumper ring, hunters and equitation. He's no hunter, but he's a fabulous eq. horse and, at the time, was jumping Level IV. Now days, I have been schooling him second level dressage. He knows shoulder ins, leg yeilds, turn on the forehand and haunches and has been started on lead changes (though they're not quite perfect just yet). Also, I've been schooling him through haunches in, haunches out and the half pass. Despite his lumpy looking knee, he has some really gorgeoous gaits and absolutely beautiful extension. He comes nice and round and will really come forward if you ask for it. He goes in an eggbutt snaffle bit and has since I bought him about seven years ago.

Mirage is a perfect gentleman in hand and under saddle with no spook. He goes in water, is fine with flags and any number of other 'scary things.' About two or three years ago we actually rode an eventing dressage test in the middle of a sandstorm with the ring letters literally falling down around us and he just booked it through the test like it was sunshine and daisies. (Suffice to say we got a LOT of sevens and eights on that test. *g*) He stands, ties, clips, is easy to worm, bathe and blanket. He'll stand for the vet, farrier, shots, etc.,. and so forth. Loads easily in any kind of trailer imaginable. He's been pretty much anywhere and everywhere in all sorts of weather conditions and he'll hang around patiently pretty much anywhere you put him (including tied at the trailer). He's extremely gentle and people friendly, a real school master type horse that I really just want to go to a loving family who's going to take care of him. He's got a lot to offer a beginner or an intermediate rider, whether you want to compete him flat or dressage or if you just want to take him out on the trails. He's up to date on all his shots, worming and shoes.

We're asking $3,000 though we're willing to negotiate. Comment here or email me at xalmighty_penguinx@yahoo.com.

Last but not least, here's a few pictures and a link to his dreamhorse ad: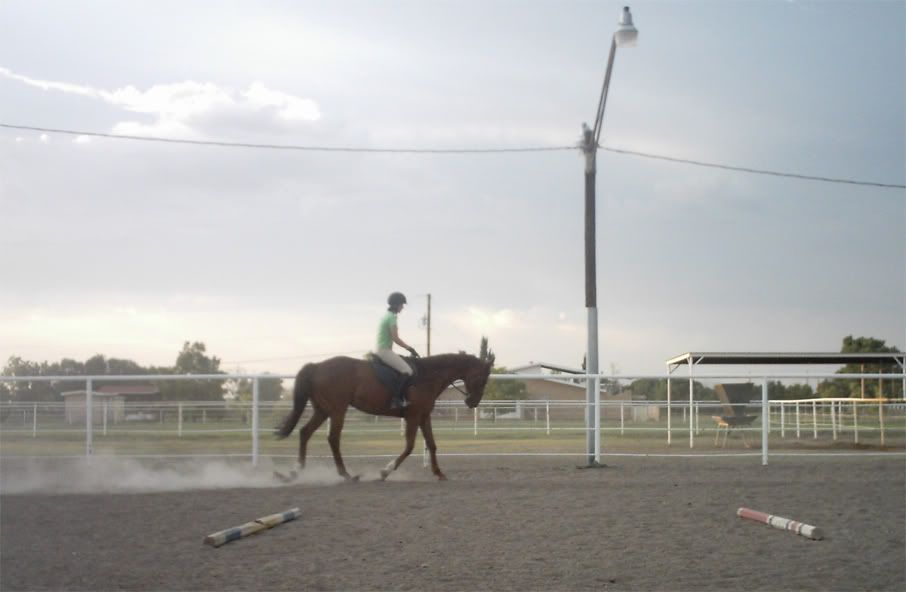 DREAMHORSE AD

Crossposted to
equestrian.